Disability income insurance may be right for you if…
You depend on your income to support your lifestyle
Your income is your most important asset and without it, you may not be able to maintain your way of life.
You can't afford to be out of work for an extended period
You're living paycheck-to-paycheck, and any disruption in your income could be a challenge for your family.
You don't have other sources of income available
You don't have employer-provided disability income insurance to fall back on. And you can't count on government disability insurance or workers' compensation.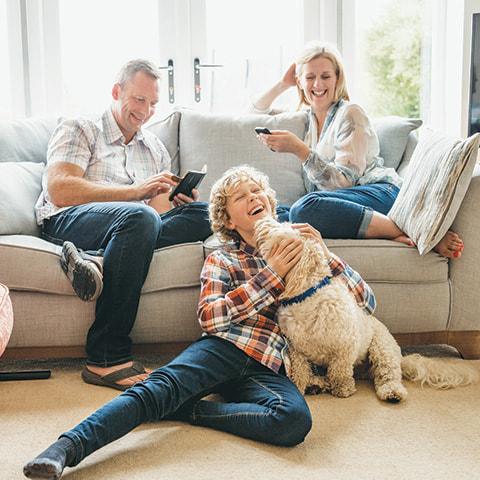 What is your most valuable asset?
Close
Disability Insurance
Hello. I'm Kevin McCormally with Kiplinger's Personal Finance Magazine here to talk about disability insurance.
Quick: What's your most valuable asset?
Did you think of your home? Or, if you're a renter, maybe your car? Perhaps an investment portfolio . . . or that 401(k)?
Well, think again. It's probably your ability to make a living. Think about it: If you make $75,000 a year, over 40 years, that's 3 million dollars.
But what happens if illness or accident prevents you from working? You know, that there's just over a one-in-four chance that someone in today's working force may become disabled before reaching age 67*.
You undoubtedly insure your home . . . and your car. But what about insuring your ability to earn a living?
That's what disability insurance is all about.
You may have some disability insurance at work. But benefits under an employer's plan usually maxes out at 60% of your salary. And, benefits are fully taxable at your top tax rate. Would that leave you with enough to pay the bills if you were unable to work for an extended period?
If not, you may need an individual policy to fill the gaps. Figuring how much you need can be a challenge, but here's some surprisingly good news: Benefits you get under a policy you pay for yourself come to you tax-free**.
Shopping for disability insurance is different than buying term life or automobile coverage. But with some homework and some trusted advice, you can get the protection . . . and some peace of mind . . . that you need.
*Social Security Administration Fact Sheet 2013
**Section 105(a) of the Internal Revenue Code
This information should not be construed as tax or legal advice. Consult with your tax or legal professional for details and guidelines specific to your situation.
AFN45307
Priority Income Protection ®
Priority Income Protection® offers a simple, fast way to apply for a disability income insurance policy that will pay you a monthly benefit if you are injured or sick and unable to work.
This policy may be right for you if you want
A short application
Affordable, easy to understand coverage
Portable coverage that doesn't require a medical exam
Disability Income Choice Portfolio ®
Insurance policies in the Disability Income Choice Portfolio® offer full-scale, tailored income protection to meet almost any budget or need. These products are ideal for individuals who want to select among varied solutions.
Some important considerations
The need for disability income insurance
No one wants to think about becoming disabled. But surprisingly, the risk is more real than many people believe.
Over 37 million Americans are classified as disabled. More than 50 percent of them are in their working years.*
1 in 8 workers will be disabled for five years or more during their working careers.*
The right amount of coverage
You should have enough disability income insurance to pay your monthly living expenses, so you and your family can focus on what's most important during such a critical time…your recovery.
Your good health matters
Many people with health issues are still able to purchase disability income insurance. But it's important to remember that health issues increase with age. That's why it's important to consider purchasing disability income insurance sooner rather than later.
The best time to buy
The best time to buy disability income insurance is now. A disabling illness or injury can happen at any time, at any age. And, since premiums are based in part on your age at time of purchase, waiting may cost you more. Considering all that your income provides, and the financial goals you've set, isn't it important enough to get started today?