An Inclusive Culture
An Inclusive Culture
At Mutual of Omaha, we strive to create diverse teams, but we know that's not enough. We must maintain an unwavering focus on equity and conscious inclusion so that we create a culture where all can thrive. We do this because it's simply the right thing to do, but we've also discovered it delivers value to our customers.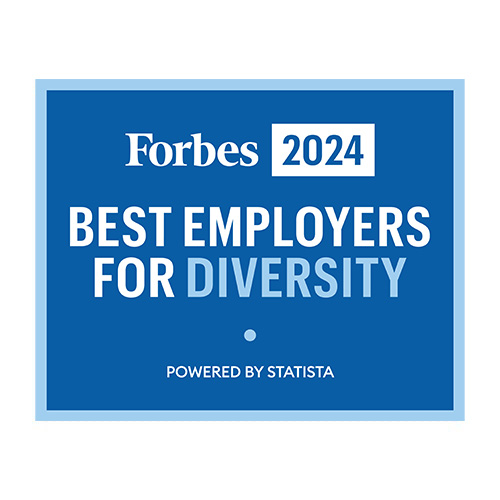 Recognized by Forbes as one of the Best Employers For Diversity 2023
Our DEI efforts have been recognized and we are proud to be named one of Forbes 2023 Best Employers For Diversity
How do we define inclusion? 
At Mutual of Omaha, when we refer to inclusion, we are describing a desired environment where everyone feels a sense of:
Belonging: connection and acceptance
Authenticity: the ability to openly express your true self, beliefs and opinions and the courage to be vulnerable
Respect: acknowledgement and validation of differences without judgement
Value: appreciation of unique perspectives and intentionally seeking and harnessing the richness of ideas from individuals with diverse backgrounds
Equity: fair and equal opportunities to succeed through active removal of intentional and unintentional barriers and inclusive decision making
Commitment: personal accountability for DEI efforts from the top down
Internal Diversity, Equity & Inclusion Groups and Programs
We've developed several ongoing programs for employees and managers that support an inclusive culture.
Mutually Connected

This culture shaping workshop, which is required for all employees, explores many concepts and values that support diversity, equity and inclusion.

Mutually Inclusive

Building on the principles of Mutually Connected, this flagship program serves all employees by bridging connections across differences. Designed to deepen psychological safety and belonging, the program reinforces several concepts including allyship, identity and anti-racism. Many activities are employee-led including a book club that encourages self-exploration while connecting with others on a shared journey.

Diversity and Inclusion Action Group (DIAG)

Our Diversity & Inclusion Action Group (DIAG), made up of leaders throughout the company, provides focus and direction for Diversity, Equity and Inclusion (DEI) initiatives.

Inclusive Leadership & Accountability

All managers participate in learning experiences designed to explore unconscious bias, build equity and foster inclusion within their teams.

Advocacy and Advisory Council

The Advocacy and Advisory Council is comprised of associates representing each business unit and operation. They advise of opportunities to incorporate DEI strategies and advocate for DEI within their business units.

Employee Resource Groups (ERGs)

Mutual is home to nine Employee Resource Groups, consisting of associates who have joined together around shared characteristics or life experiences. Each group focuses on creating awareness and programming to improve the diversity and inclusiveness of our workforce, workplace and business.

Employee Resource Group
Extending Our DEI Commitment
Commitment to Opportunity, Diversity & Equity (CODE)
CEO Action for Diversity and Inclusion
Mutual of Omaha is a proud participant in the CEO Action Pledge for Diversity & Inclusion, the largest CEO-driven business effort to advance diversity and inclusion in the workplace. This commitment is driven by a realization that diversity and inclusion is not a competitive issue, but a societal issue that CEOs can play a critical role in addressing.
Community Involvement and Philanthropy
Our corporate philanthropy and employee volunteer programs benefit organizations that serve diverse clients and promote inclusive communities. Learn more about these efforts.
You may also be interested in: 
Diversity, Equity & Inclusion Initiatives 
Learn more about actions we are taking to be better and do better.
Employee Culture 
Explore our culture and values.