Mutual of Omaha has you covered
Since 1909, we've existed as a Mutual company serving for the benefit and protection of our customers. Which means we don't answer to Wall Street, we answer to you.
Medicare Supplement insurance is offered to protect our customers' health and wallets. It's a great option to add to your existing Medicare Part A and B plans, as Medicare supplement insurance helps cover some out-of-pocket costs that Part A and Part B may leave you with. These include expenses like copays, coinsurance, and deductibles. Medicare Supplement plans also make traveling - even internationally - easy, while being a steady monthly bill you can budget for. Check out Medicare Supplement Insurance Basics for the information you need to make the decision that's right for you.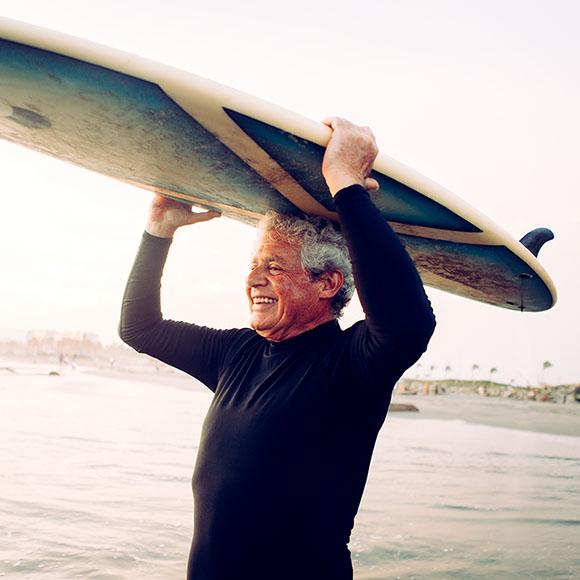 Mutual of Omaha Medicare Supplement insurance policies also come with an Additional Benefit Rider that includes discounts and services through third-party providers, at no additional cost to you.
Mutually Well
Mutual of Omaha's new Mutually Well program gives you more...
Discounts of up to 30% on healthy living products and services from 20,000+ specialists1
Flexible, budget friendly fitness program with access to 10,000+ fitness locations and no enrollment fee or contracts2
Free 30-day walking program and personalized weekly planning for your nuturition, fitness, and wellness needs
Learn more about our Mutually Well Program
THIS SERVICE IS NOT INSURANCE
Amplifon Hearing Health Care
Save on hearing tests and brand-name hearing aids from Amplifon. Your hearing aid purchase includes a 60-day risk-free trial period, two years of free batteries, a three year warranty* and a low price guarantee - find a local quote for less and Amplifon will beat it by 5%**.
*Some exclusions apply. Limited to one-time claim for loss and damage. Deductibles may apply.
**Amplifon offers a price match on most hearing devices. Some exclusions apply. Not available where prohibited by law.
EyeMed Vision Care
Receive discounts on routine vision services like exams and eyewear from a network that includes independent providers as well as the nation's top optical retailers. When you visit an in-network EyeMed provider, you'll use a special code to save $50 on eye exams and 40 percent on frames up to $140. You'll also receive discounted pricing on lenses and other services.
Add a Prescription Drug plan and Dental insurance
There's more to health than Medicare Supplement
Our Medicare Supplement Insurance Reviews
See What Our Customers Have to Say
Female
75-79
Virginia
Purchased: Plan G
Good People Great Service
great. I love the fact if I have a question, I get to speak to a real person and it doesn't take all day. The staff are so patient and have the answers.
Yes, I recommend this product.
Female
65-69
Georgia
Purchased: Plan F
Good and comprehensive coverage with excellent follow-up and statements.
Yes, I recommend this product.
Female
70-74
Georgia
Purchased: Plan G
Best value, never have to worry about their payment, easy payment options
Overall, my experience has been problem free! I have no plans of changing to another company as this company meets all of our needs.
Yes, I recommend this product.
Ready to take the next step?
See what our customers are saying about us or get a quote from the products available in your state.