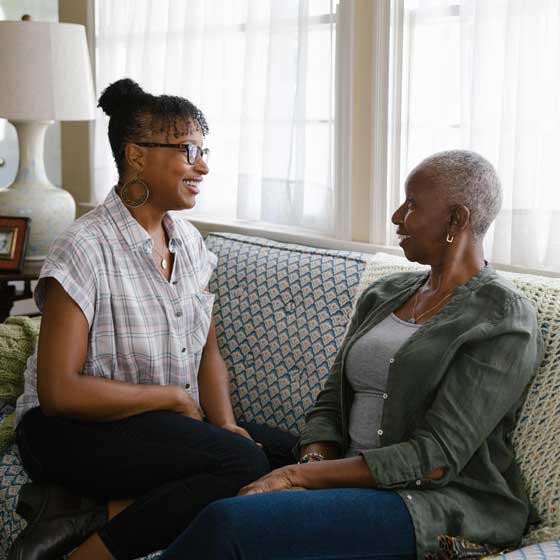 Whole life coverage may be right if you:
Need coverage that doesn't require a medical exam or health questions
Have a tight budget or fixed income and need a premium that won't increase
Need coverage for burial, funeral, or other final expenses, or to pay off debts
Would like to supplement existing insurance coverage
Want to build cash value and have access to funds in an emergency
What is included in a whole life insurance policy?
Guaranteed coverage that lasts for the rest of your life* with no medical exam
Premiums that are guaranteed not to increase
Potential cash value that grows on a tax deferred ** basis
A set benefit to be paid to your designated beneficiaries at your death
Apply in as little as 5 minutes
Simple 4 step application including personal information, beneficiaries, pay and sign
Receive instant coverage
Benefit amounts: $2,000 – $25,000
(in WA, $5,000 - $25,000)
Frequently Asked Questions
Like whole life plans, most term life plans have a fixed premium and fixed death benefit. However, whole life provides benefits for the rest of the insured person's life, whereas term life only lasts for a specific period of time. In addition, a whole life policy includes cash value, whereas a term life policy only includes the death benefit. On the other hand, term life has a lower premium per dollar of coverage and significantly larger death benefits are available.
Whole life and universal life are both types of permanent life insurance, so they have many characteristics in common. Both whole life and universal life provide a death benefit for the rest of the insured person's life. The main difference is that whole life has a fixed premium and a fixed benefit, whereas universal life has more flexibility — but that flexibility also comes with more risk, as the premium might increase.
In general, whole life is a type of budget-friendly insurance, and the premium will never increase. Your premium takes into account your current age at the time of issue, your gender, and your death benefit amount.
Understand How Life Insurance Works
You may also be interested in:
Allows you to give the gift of long-term protection for a child or grandchild up to age 17.
Learn more
Helps provide guaranteed financial support for your loved ones if you die in a covered accident.
Learn more