Why get a Prescription Drug Plan (PDP)?
Prescription drugs can be expensive. That's why picking the right prescription drug plan is so important. We designed our plans to offer the things that matter most to you. Things like low premiums and deductibles. Or, things like broad access to a preferred pharmacy network.
So whether you're aging-in or thinking about switching plans, we have a plan for you. With a Mutual of Omaha Rx plan, you can be confident knowing you picked a plan that's affordable and covers the prescriptions that matter most.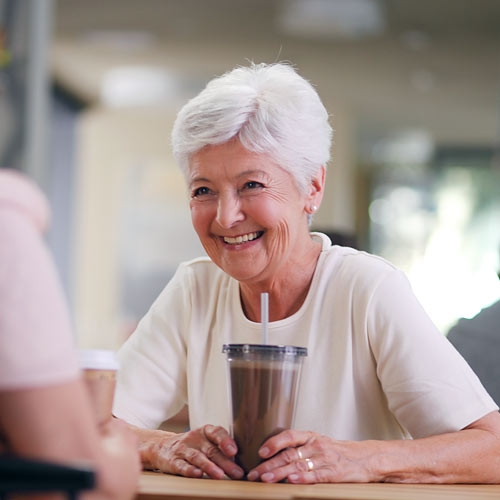 Is Our Prescription Drug Plan the Right Fit for You?
It might be a good solution if:
You have Medicare Part A and Part B
You'd like to save money on the most commonly prescribed medications
You have Medicare supplement insurance and want a prescription 
plan to add to your coverage
Your prescriptions aren't covered by your employer
You want the protection of coverage, even if you don't use prescribed 
medications now
Our Prescription Drug Plan Benefits Offer:
Affordable Monthly Premiums
Our premiums start as low as $25.
Low Deductibles
We offer low copays, $1 to $13, on most commonly prescribed drugs.
Convenient Pharmacies
Get preferred pricing at more than 67,000 participating pharmacies and major retailers nationwide.
When Can You Enroll in a Prescription Drug Plan?
You can enroll when you first become eligible for Medicare during the Initial Enrollment Period. That's the seven-month period which starts three months before your 65th birthday month and ends three months after. If you don't sign up during this time, you may have to pay a late penalty if you enroll at another time.
You can enroll, or switch plans each year, during the Annual Enrollment period from October 15 to December 7. If you sign up during this time, your coverage starts on January 1.
There are a few other exceptions, known as Special Enrollment Periods, which include (but are not limited to) events such as:
If you move to an area that isn't in 
your current plan's service area
If you lose your coverage from work
What's the Medicare Part D Late Enrollment Penalty?
You may have to pay a late penalty fee if you don't sign up for a prescription drug plan when you're first eligible for Medicare Part A or Part B and you don't have another prescription plan that meets Medicare standards at that time.
This penalty generally continues as long as you have Medicare Part D coverage.
If you have any questions, please contact Mutual of Omaha Rx at 855-864-6797. Customer Service is available 24 hours a day, 7 days a week. TTY users should call 800-716-3231.