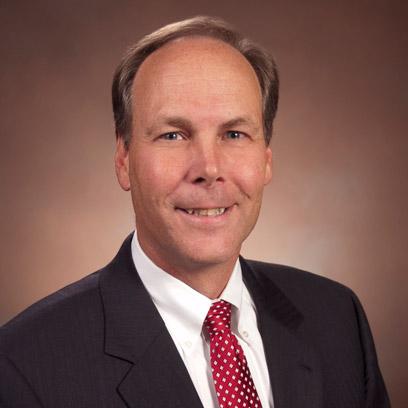 Message from Chairman & CEO James Blackledge
As Chairman and CEO, I am personally committed to diversity and inclusion at Mutual of Omaha. I believe it is integral to our customer-centric mission, enabling our employees to be at their best and deliver the most value for our customers.
We strive to not only create diverse teams, but to build an inclusive work environment where all can thrive. We operate within an internal value system that supports this ideology with the notion that Together We Achieve Greatness. When we respect and celebrate the unique strengths and differences in each other, we elevate our success. As Chairman and CEO, I will continue to support and champion diversity and inclusion throughout our business.
CEO Action for Diversity and Inclusion
Mutual of Omaha is a proud participant in the CEO Action Pledge for Diversity & Inclusion, the largest CEO-driven business effort to advance diversity and inclusion in the workplace. This commitment is driven by a realization that diversity and inclusion is not a competitive issue, but a societal issue that CEOs can play a critical role in addressing.
Visit CEO Action Website
Our Commitment in Action
Employee Resource Groups

We offer nine Employee Resource Groups (ERGs), consisting of employees who have voluntarily joined together around shared characteristics or life experiences. Each ERG has a mission focused on creating awareness and programming that improves the diversity and inclusiveness of our workforce, workplace and business.

Community Involvement/Partnerships

Our corporate philanthropy and employee volunteer programs benefit organizations that serve diverse clients and promote inclusive communities. We have also joined forces with other employers in Greater Omaha as part of the community's Commitment to Opportunity, Diversity, and Equity (CODE) to create positive, measurable outcomes leading to increased opportunities and equity for underrepresented populations.

Culture Shaping

Our culture is built on shared values and behaviors that respect the unique strengths and differences in all people. That culture is reinforced through our Mutually Connected culture-shaping program, which stresses the importance of a diverse and inclusive workplace.

Knowledge Sharing

We are committed to partnering with other organizations to lead and support diversity and inclusion efforts in a very broad sense. We actively partner with other companies and community leaders to discuss best practices and advance our collective impact. Our team serves as guest speakers and panel representatives at local and national conferences and events that center around diversity and inclusion. We are proud to share what is working for us and remain committed to learning from others in our ongoing effort to build an inclusive workplace.
Recognition
Mosaic Award

Mutual of Omaha is a recipient of the 2018 Mosaic Diversity & Inclusion Award from the Human Resource Association of the Midlands (HRAM). The Mosaic Award annually recognizes an organization that has made outstanding contributions to workplace diversity.

HRAM Website

Homeland Defense Service Ribbon and ESGR Pro Patria Award

In 2018, Mutual of Omaha received the Nebraska National Guard Homeland Defense Service Ribbon and the Employer Support of the Guard & Reserve (ESGR) Pro Patria Award, as well as recognition as a Semi-Finalist for the National Secretary of Defense Employer Freedom Award, in recognition of our support of employees who serve in the National Guard and Reserve.

ESGR Website

Diversity and Inclusion Champion Award

Mutual of Omaha was named the recipient of the Urban League of Nebraska's (ULN) 2018 Diversity and Inclusion Champion Award for its commitment to diversity and inclusion in the workplace as well as its work with ULN's Young Professionals. The annual award recognizes local corporations and organizations for support of ULN's initiatives and programs.

ULN Website