Helping protect kingdoms is in our nature. For decades, we helped protect the animal kingdom through the conservation efforts of Wild Kingdom. Today, we help protect everyday kingdoms that exist in homes like yours with trusted solutions that are designed to help you protect what matters most.
So, whether you need financial services, Medicare solutions, life insurance products, advice or employer-based plans, the Mutual of Omaha family of companies offers solutions to help you protect the kingdom you've built.
Medicare Solutions
Life Insurance
Financial Advice
Protect Your Health with Medicare Solutions
Original Medicare (Medicare Part A and Medicare Part B) only covers about 80% of medical expenses, and doesn't cover prescription drugs, vision or dental. The Mutual of Omaha family of companies can help cover your health care needs with a plan, or plans, that's right for your budget.
Protect Your Loved Ones with Life Insurance
Life insurance helps you protect your loved ones. It can help cover end-of-life expenses and to provide financial security when you're gone. It can be overwhelming to think about, but it's important to have a plan.
Protect Your Kingdom with Financial Advice
At Mutual of Omaha, we have a diverse network of agents and advisors across the country. They're trained to listen first, so they can understand your unique needs and provide insurance and financial advice that can help you protect what matters most.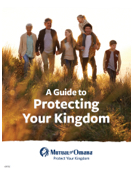 A Guide to Protecting Your Kingdom
Our Guide to Protecting Your Kingdom provides information and insight into protecting your physical, mental and financial well-being, as well as how you can better prepare yourself for the future.
Enter your email below, and we'll send you the guide, so you can better protect what matters most to you.