From the Wild Kingdom to your own kingdom, we've been helping people protect what matters most for over 100 years.
Medicare Solutions: Protect Your Health
Original Medicare (Medicare Part A and Medicare Part B) only covers about 80% of medical expenses and doesn't cover prescription drugs, vision or dental. Help cover your health care costs with a plan that fits your budget.
Life Insurance: Protect Your Loved Ones
Life insurance can help protect your loved ones when you're gone by helping to cover end-of-life expenses.
Financial Advice: Protect Your Kingdom
Our diverse network of agents and advisors understand your unique needs and provide advice that can help you protect what matters most.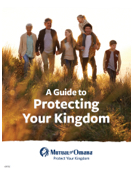 Get your FREE Guide to Protecting Your Kingdom
You'll find tips on how to help protect your physical, mental and financial well-being – now and for the future.
Enter your email below and we'll send you the FREE guide.