The most important part of your kingdom is your loved ones. They're your pack – your pride. You've protected them through the everyday ups and downs for decades, and we can help you provide lasting protection for them, even after you're gone.
Is Guaranteed Whole Life Insurance Right for Me?
This type of permanent life insurance coverage is designed to help protect your loved ones by locking in benefits that can help pay for end-of-life expenses*, as well as providing cash value that can be accessed as needs may arise. If you're looking to help protect those closest to you after you're gone, Guaranteed Whole Life Insurance offers $2,000 - $25,000** of coverage along with these benefits:
Guaranteed coverage – no medical exam for people aged 45-85
Premiums are guaranteed not to increase
Benefits are never reduced because of age or health
Most claims are paid to beneficiaries within 24 hours
Coverage that lasts the rest of your life
1
Potential cash value that grows on a tax-deferred basis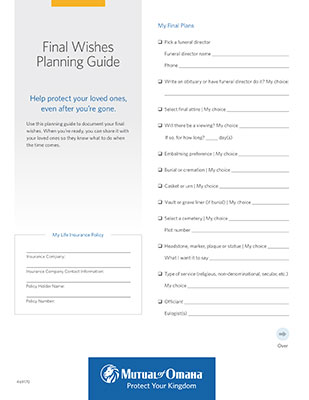 Preparing now can help you protect your kingdom after you're gone.
Use this FREE planning guide to have your final wishes in order. When you're ready, make a copy and share this with your loved ones, so they'll be ready when the time comes.